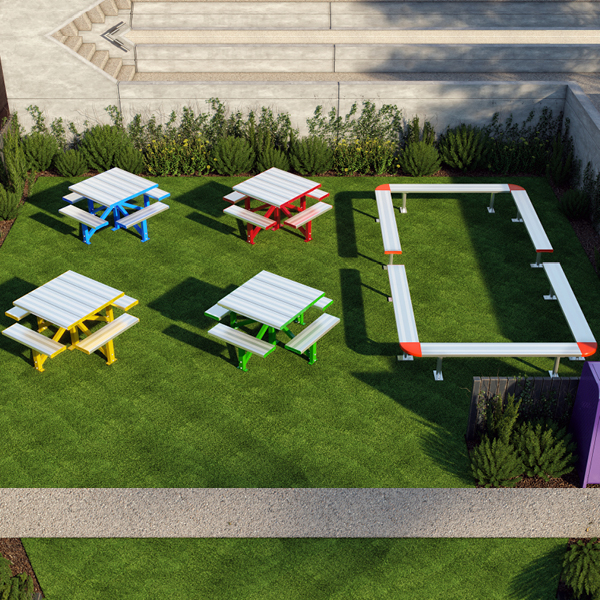 Take Learning Outside with Felton Outdoor Classrooms
Take learning outside and engage students with outdoor learning on a regular basis. Choose from our range of quality outdoor classrooms or design your own to create the perfect outdoor area for learning at your school.
Our premium quality aluminium outdoor furniture is 100% Australian made and built for Australian conditions. Patented safety end caps and Ezy-Connect bench seating joiners are available in 6 inspiring colours.
Need help designing your perfect outdoor classroom?
Call the team for a free consultation on 1800 834 016
Choose your Outdoor Classroom package or design your own!
Or Design your Own! Ezy-Connect Bench Seating Joiners are available in 6 striking colours
Outdoor Classrooms - Create wonderful outdoor spaces for learning
Why it's time to get outside
Are you considering whether outdoor learning should have a more permanent place in your timetable and how an outdoor classroom might work? Research indicates that incorporating outdoor learning can promote enthusiasm for school, encourage learning and help make your school a happy and more productive environment for kids. Take a look through the research, benefits and how to make the most of an outdoor classroom for your school.
A global research study, Project Dirt was undertaken by the Outdoor Classroom Day asking teachers who took part in Outdoor Classroom Day about the impact of taking children outdoors. The findings were overwhelmingly encouraging, reporting the positive impact of outdoor learning on students, teachers and the wider community. The results included helping students to think creatively and perform better on standardised tests. Teachers also reported rejuvenated enthusiasm for learning.
What are the benefits of outdoor classrooms and learning spaces for your school?
A survey by the Outdoor Classroom Day found the following benefits of outdoor learning and outdoor activities for students:
Happier and more engaged students: Teachers stated that children are happier and more engaged with learning after spending time outdoors. 84% teachers in Australia believe that outdoor learning led to greater engagement with learning among students.
Improved Concentration among students: 62% teachers in Australia believe that outdoor learning and activities boost concentration among students.
Calmer and better behavior among students: In Australia 63% of teachers believe that outdoor activities and learning promote better, calmer and more regulated behavior among students who are more open to learning.
So why not make the commitment to continually pursue learning both inside and outside the classroom through outdoor learning spaces? Tips to create a productive outdoor classroom environment
5-minute walks before starting the lesson:
When taking learning outside, some children may on occasion or regularly become overexuberant at the prospect of going outside and a change from the familiar scenery. To ensure this doesn't turn into disruptive or distracted behaviour, a great way to start off your outdoor learning is to set up a 5-minute walk to start the lesson. Each time children follow a specific route and observe what's new about their outdoor environment or consider a particular theme and then discuss it with the class on their return to the meeting point. Having burned off a little pent up energy, children are more likely to be ready to settle down at their specified outdoor classroom to complete the lesson.
Endorsing Outdoor classrooms as a bonus opportunity
Even though the outdoor learning may have a regular schedule in the school week, it may be apt to endorse it as a bonus opportunity which has the potential to be lost if it is not given the respect it deserves. Specific rules and expectations associated with outdoor learning spaces should be set and a commitment made to these at the start of the year.
Choosing the right furniture for your outdoor classroom
To maximise outdoor learning it is important to choose the right outdoor furniture for your outdoor space. The usage of which may vary with the weekly topic. In some weeks it may be beneficial to use seating to encourage interaction and team-building – for example, 4-sided pedestal park setting which maximises interaction. On other occasions the learning activity may benefit from a line of seats to reduce the face-to-face communication so children can easily focus on watching and joining whole class activities rather than group setups. Thoughtful planning and flexibility of your outdoor space and furniture can become a strong contributor to the success of the learning experience. Our outdoor classrooms have been created to support a variety of learning experiences and outcomes.
Providing adequate shelter and shade for the outdoor learning spaces
Having adequate shade and shelter paramount to outdoor learning. Undercover areas are key to protecting students and staff from sun. It's important to remember that you can still be affected by UV radiation, even in the shade. This is why it's essential to take into account issues like reflective radiation, shade material and product lifespan when developing shaded areas. Having an outdoor classroom that is undercover means it can be used readily even when it is rainy or the weather is presenting a challenge.
Choosing Durable and Low-maintenance furniture for your outdoor classrooms
If you are purchasing new outdoor furniture, ensure you select premium quality, long-lasting material that will withstand high usage, as well as resilience to the rain and heat erosion. Aluminium is perfect for outdoor furniture as it is strong, durable and won't rust, warp or fade over time.
Learning and playing outdoors are key influencers in helping children feel well-balanced and creative. With 72% of Australian primary schools organising classes outside at least once a week, its essential to have an outdoor learning space that works well for your school. Felton offers a range of popular outdoor classrooms to assist you in creating your engaging learning area. Choose from one of our designs, or discuss your own ideas with our specialists in outdoor design to build your own outdoor classroom perfect for your schools unique needs.
Felton Industries are committed to assisting schools to create safe and fun environment that add to the enjoyment of school life. Take the initiative and provide students with engaging outdoor learning opportunities with Felton's outdoor classroom solutions!