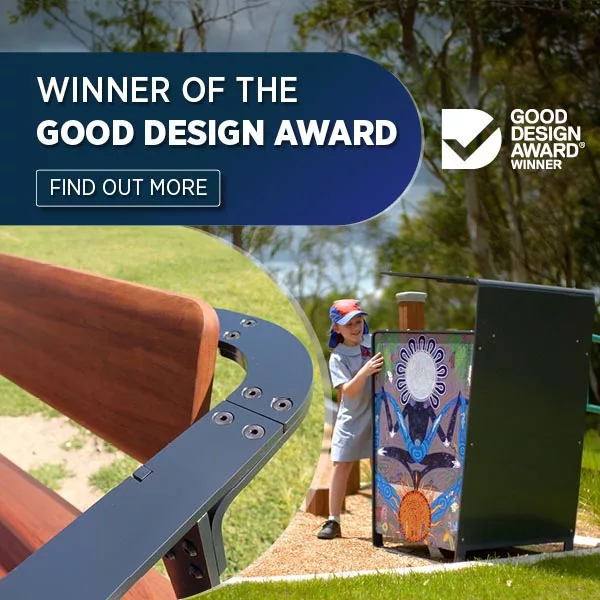 Felton Industries Wins Good Design Award for Excellence in Design and Innovation
We are excited to announce we are a Winner of the 2023 Australian Good Design Award. Our Ribbon Range Featuring Caring for Country received a prestigious Good Design Award Winner Accolade in the Product Design category which recognises outstanding design and innovation.
The Ribbon Range and Caring for Country Range feature a beautiful selection of modern street furniture architecturally designed by industrial design house, Vert Design. They include a table outdoor setting and bench seating with iconic open loop frames, and bin enclosures with angled rainwater roof covers. Their outstanding contemporary design and unique innovation were key factors in being recognised for this prestigious award.
The Caring for Country Range takes its design from the Ribbon range whilst showcasing breathtaking art by award-winning Indigenous artist Brett Parker, Billyara. It utilises new sublimation techniques making it a first in innovation. The Caring for Country range celebrates rich Indigenous history and culture, providing schools, colleges, parks, resorts, community spaces and other venues with a wonderful resource to enjoy, learn and explore Indigenous art and culture.
 The Good Design Awards Jury commented: "A simple, lightweight range of street furniture. The Jury commends the designers of the Ribbon Range Featuring Caring For Country for its timeless design that will no doubt stand the test of time Well done."
The Australian Good Design Award is the country's oldest and most prestigious international award for design and innovation. Originating in 1958 they represent the highest honour for design and innovation in Australia. They celebrate the best new products across an array of different categories including architectural design. Projects are assessed by over 70 Australian and international jurors with over 900 entries evaluated this year.
"We are thrilled to receive the 2023 Good Design Award for our street furniture range which offers organisations new and exciting opportunities to transform their outdoor areas with quality award-winning outdoor furniture," said Gus White, National Sales Manager.
Projects recognised with an Australian Good Design Award demonstrate excellence in professional design and highlight the impact a design-led approach has on business success and social and environmental outcomes.
PROJECT DETAILS
Designed in Australia by
Vert Design Studio, Felton Industries, Brett Parker, Billyara - Indigenous Artist
Project Description: 
As a suite of outdoor furniture products, the Ribbon Range generously connects communities. Fitting for urban streetscapes to lush parklands, the designs are elegant and durable. Evolving into the Caring for Country Range, the designs provide a canvas for Indigenous artist, Billyara to educate the wider community on Indigenous culture.
About Good Design Australia and the Australian Good Design Awards
Good Design Australia is an international design promotion organisation responsible for managing the annual Australian Good Design Awards and other signature design events. With a proud history that dates back to 1958, Good Design Australia remains committed to promoting the importance of design to business, industry, government and the general public and the critical role it plays in creating a better, safer and more prosperous world.
Ribbon Range Street Furniture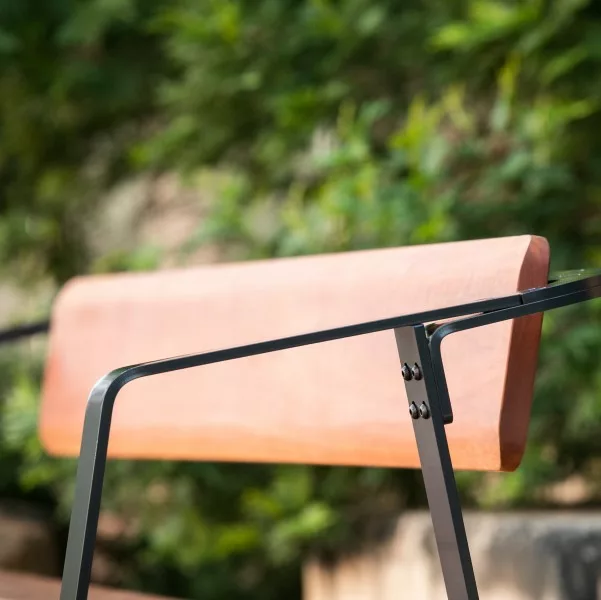 Caring for Country Outdoor Furniture Range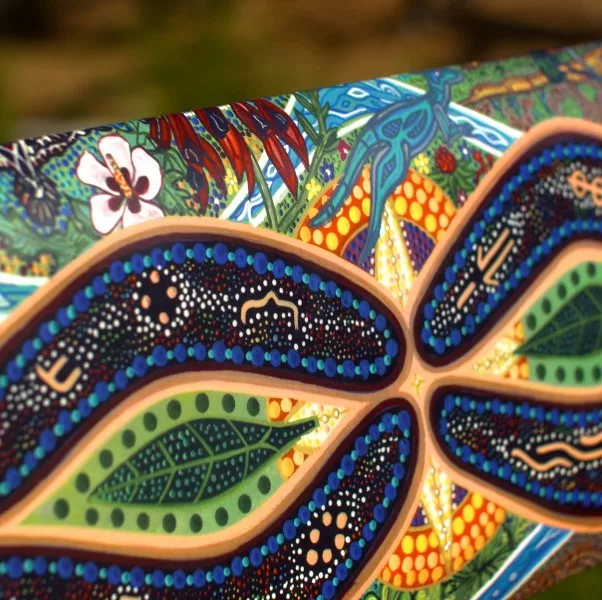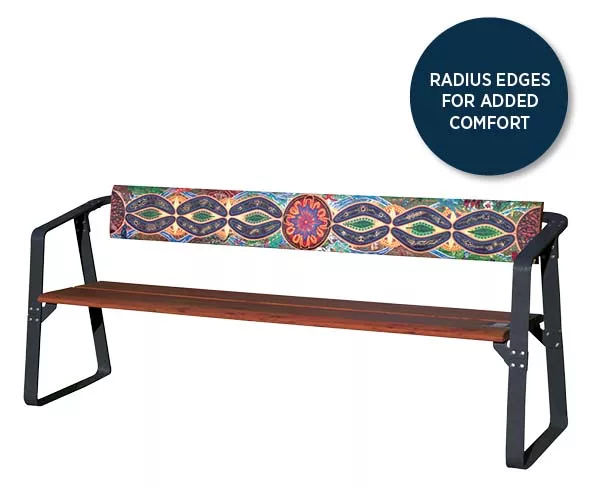 Barradam-bang 
Bright Star Above
Bench Seat with Backrest
Beautiful Barradam-bang artwork across the backrest
Designed for access and mobility and in accordance with Australian Standard (AS 1428.2)
Architecturally designed with Iconic loop frames
Fully Aluminium seat planks with wood grain finish
Matte finish to backrest artwork
Durotec Charcoal Satin Powder-coated frames
QR code to watch storytelling video
Modular design for easy servicing and maintenance
Dimensions:
630mm D x 2,124mm W x 790mm H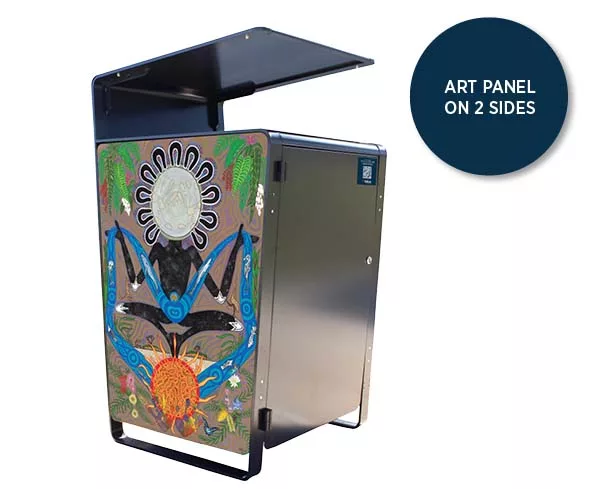 Wirimbirra Wirimbirra
Take care of, to preserve or to keep
Bin Enclosure
Inspiring Wirimbirra Wirimbirra artwork on both sides of bin enclosure
Architecturally designed with stylish roof providing rainwater cover
Super durable exterior grade powder coat finish (Charcoal colour)
Three-sided access & front hinging door
Secure locking & surface fixed mounting
QR code to watch storytelling video
Durable charcoal finish
Suitable for 240L Wheelie Bins
Dimensions: 240L:
810mm D x 760mm W x 1415mm H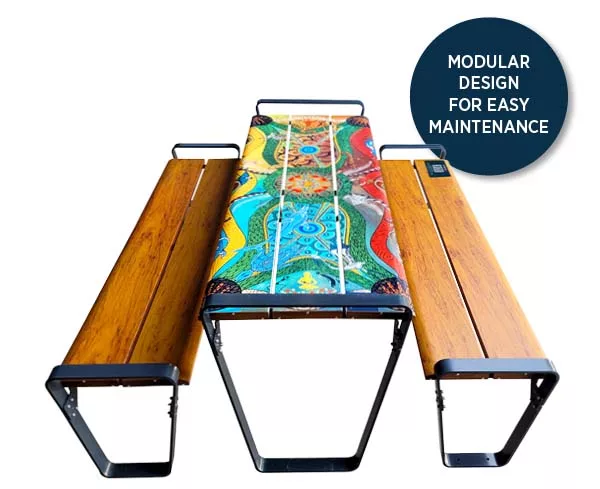 Burbang Birrang
Ceremonial Journey
Outdoor Setting
Stunning Burbang Birrang artwork across the tabletop
Architecturally designed outdoor setting with iconic loop frame
Fully Aluminium seat planks with wide profile batons for added comfort
Wood grain finish on seat planks
Matte finish to tabletop artwork
Durotec Charcoal Satin Powder coated frames
Wheelchair access available upon request
Modular design for easy servicing and maintenance
QR code to watch storytelling video
Dimensions of Seat:
447mm W x 1984mm L x 520mm H
Dimensions of Table Top:
680mm W x 1984mm L x 790mm H