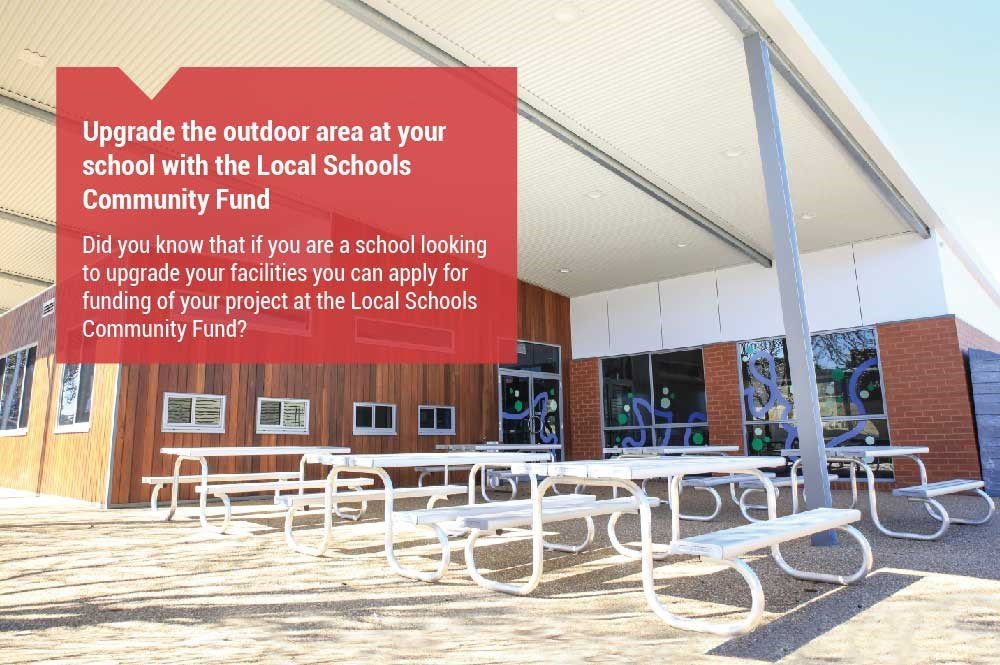 Did you know that if you are a school looking to upgrade your facilities you can apply for funding of your project at the Local Schools Community Fund? The fund is open to government, independent and catholic schools nationwide and each electorate has up to $200,000 allocated to this funding.
Who can apply?
Any school throughout Australia
What projects are eligible?
The $30.2 million funding has been set aside to assist schools with small projects. Each school campus can apply for projects estimated to cost between $1,000 and $20,000. This includes school infrastructure projects such as playground upgrades, shades, outdoor furniture and equipment updates, landscaping and creating outdoor learning areas. It also can be used for other initiatives such as indoor classroom upgrades, excursions, support services and air-conditioning.
How many projects can a school apply for?
Each school can apply for only one project.
What to include in the project application?
Applications should fully outline who benefits from the project, how it demonstrates value for money and if the project would be possible should funding not be successful. Full details and support for applying for funding can be found on Australian Government Department of Education website
When do you need to apply?
All applications must be received by September 30th 2019. 
How can Felton help?
At Felton we have a long history and outstanding reputation of working with schools and education departments to provide quality, long-lasting aluminium outdoor furniture. With a wide variety of tables and chairs, bench seating, bin surrounds, shelters, grandstand seating, bike and bag racks, changing room seating and more, Felton has the outdoor furniture to transform your outdoor area from empty spaces to meeting places.
Looking for some ideas for your school?
Take a look at how others have made transformed their outdoor areas with Felton Industries outdoor furniture.
Make a dull corner into an outdoor learning area
Change your school oval into a finals venue
Turn lunch hours into thriving social gatherings
Transform waiting areas into sheltered havens
Contact us today
Get in touch with our friendly team today on 1800 834 016 who can provide guidance and suggestions on transforming your outdoor areas at your school, and quickly and easily provide you with a quote and information to go into your grant application.