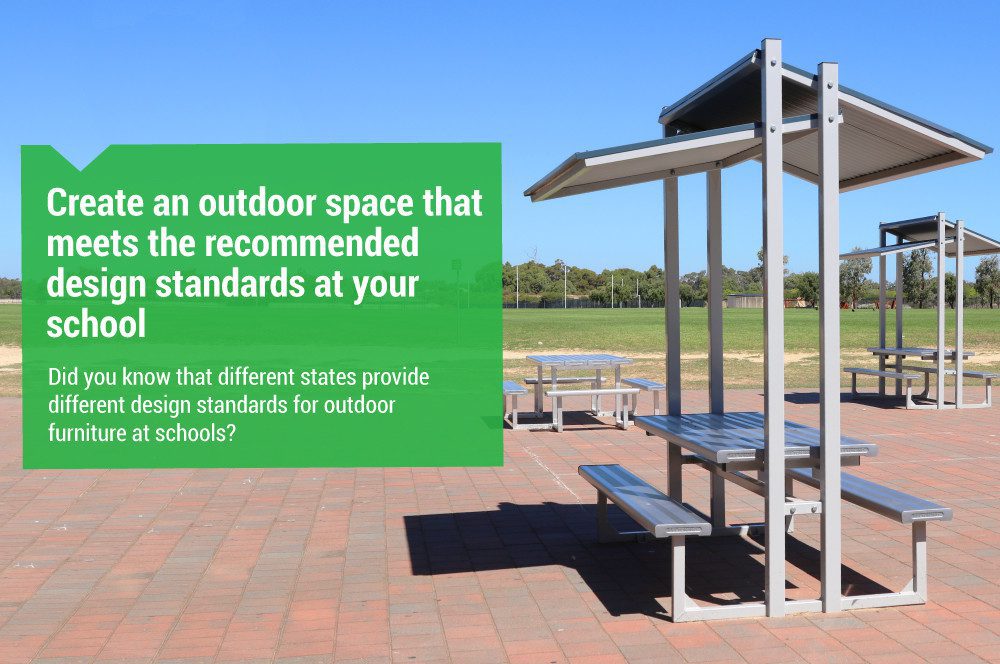 Create an outdoor space that meets the recommended design standards at your school
Did you know that different states provide different design standards for outdoor furniture at schools? Depending on which state your school is located, design standards for outdoor furniture can include detailed recommendations of parameters for outdoor furniture at your primary or high school. If you are re-designing a playground space, sports area, outdoor learning environment or shaded lunch spot with benches, tables and chairs, it is important to take into account any design standards that are available to you and create an outdoor area that meets all the requirements.
What are design standards?
Design standards refer to a set of guidelines or reference information that outline design requirements for schools to follow. Design standards help to ensure facilities in schools are inclusive, safe, and sustainable and these parameters include outdoor furniture. Outdoor facilities should offer an ideal experience for the school community, which includes being accessible and a place where students can play, exercise, interact, learn, eat, and be social with others.
Who creates the design standards?
The Design Standards are produced by the Department of Education for each state in conjunction with other relevant parties, departments and authorities.
Why are design standards important?
Design Standards for different states have been developed to assist architects, designers, builders, contractors and schools in creating high quality learning environments. With regard to outdoor space and furniture, the standards promote best practice and optimal use of outdoor space for participation and inclusion of all students. For outdoor furniture the design standards take into consideration safety, outdoor learning, social interactions, play, accessibility and inclusiveness.
Accessibility, Safety and Inclusiveness
Some examples of guidelines on accessibility and safety include fixed outdoor furniture should be solid, impossible to lift, not have sharp corners, and contrast with background surfaces.
Seating provided next to outdoor play areas should include a variety of different seating types including wheelchair friendly and seating under shelter.
Outdoor learning environments
When selecting seating for outdoor learning environments, seating should consider how different types of furniture affect interaction, facilitate teaching styles, and outdoor learning spaces should ensure there is adequate shade for all times of the year. Outdoor learning environments can work with the existing natural features such as plants and trees and they can act as part of the design.
What type of outdoor furniture have design standards associated with them for schools?
This varies per state but key examples of outdoor furniture that have recommendations and references for design and usage are outdoor seating, bins, shade structures, bicycle storage and bag racks.
For a complete reference of design standards for your school, visit the Department of Education for your state.
If you would like more information on outdoor furniture design standards for your school download our ebook which outlines design standards for outdoor furniture across the states where specified.