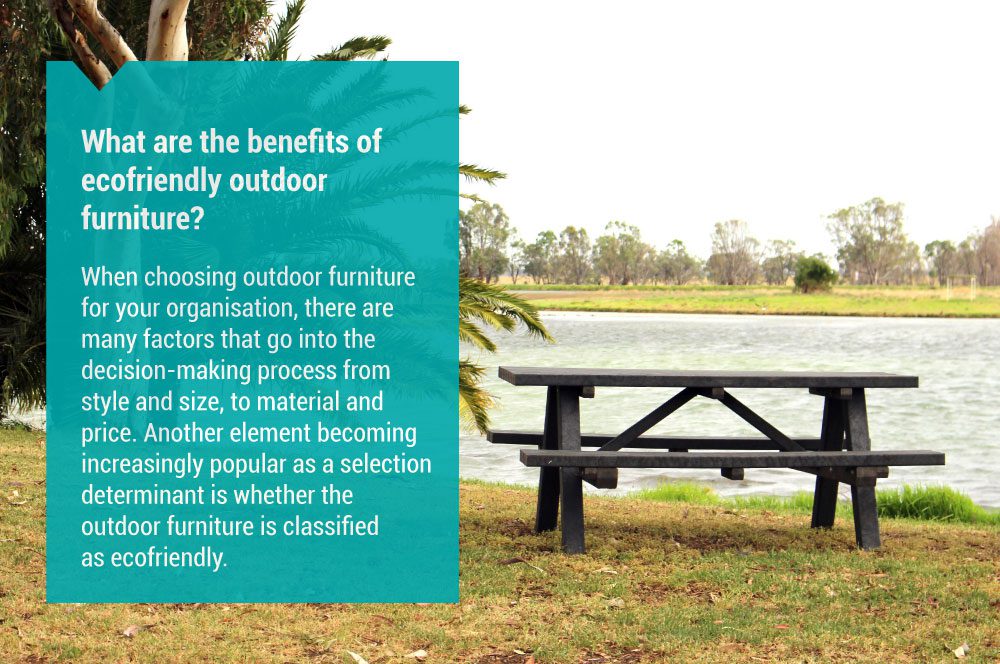 What are the benefits of ecofriendly outdoor furniture?
When choosing outdoor furniture for your organisation, there are many factors that go into the decision-making process from style and size, to material and price. Another element becoming increasingly popular as a selection determinant is whether the outdoor furniture is classified as ecofriendly. Discover what being ecofriendly really means, the benefits of ecofriendly outdoor furniture and what outdoor furniture materials are ecofriendly.
What does the term 'ecofriendly' mean
In simplest of terms, being ecofriendly means to cause the least possible harm or damage to the environment. With regard to products, this can be expanded to refer to products that boost conservation of water and energy and cause minimal pollution of land, water and air.
Common features and benefits of ecofriendly outdoor furniture

Durability
Buying products that have a short term lifespan and further the 'throwaway society' is increasingly being rejected by businesses and consumers who are showing a much greater interest in choosing products that are long-lasting and that won't end up in landfill. Ecofriendly outdoor products are known for their superior durability meaning that they won't rust, rot, mould, breakdown or deteriorate and last for many years to come.
Withstand harsh weather conditions
Whether it be persistent rain, tropical storms or harsh UV light, outdoor furniture needs to be weather resistant and maintain the same quality and appearance over time despite being exposed to the daily elements. This is another appealing trait of ecofriendly outdoor furniture – it is highly weatherproof.
Recyclable
Ecofriendly outdoor furniture can be readily recycled. This means should the outdoor furniture be no longer required it can be recycled and reused at a fraction of the cost and with significant environmental savings.
Low maintenance
Typically ecofriendly outdoor furniture has little or no maintenance required. Due to its strength and advanced manufacturing and because they do not corrode or deteriorate like other materials, maintenance of ecofriendly outdoor furniture is minimal.
Ecofriendly outdoor furniture does not attract insects or bugs and is resistant to mould or mildew.
Safety
The superior design of ecofriendly materials ensure that they come with excellent safety standards with respect to the nature of the outdoor furniture. No sharp edges, splinters, sharp corners or deteriorated strength.
What outdoor furniture materials are considered ecofriendly?
For outdoor furniture, two materials that standout as being ecofriendly are aluminium and recycled plastic.
Aluminium is lightweight, strong and very durable. It is easily malleable in manufacturing so can be molded into outdoor furniture designs with ease. It is 100% recyclable and sometimes is referred to as the 'green metal'. Aluminium is very easy to maintain due to its weatherproof properties, smooth finish and rust-resistance. In addition to this, Felton aluminium outdoor furniture has a marine grade clear anodised coating making it highly resistant to wear and tear or vandalism. Anodising can increase the hardness of the untreated aluminium surface by more than 3 times. Our extensive range of premium aluminium outdoor furniture is made to the highest quality and safety standards.
Recycled plastic is composed of high density polyethylene (HDPE) which is particularly conducive to outdoor furniture because it does not rot, fade, mould or deteriorate therefore making it safe and long-lasting. It is tough and durable and can be molded easily to meet different outdoor furniture designs. It is aesthetically pleasing and can be combined with other raw materials to produce a different type finish whilst maintaining all its core qualities. Recycled plastic composite is becoming increasingly popular choice for outdoor furniture as it prevents wasted plastic entering landfill and provides an excellent environmentally-friendly solution to plastic waste.
Our recycled plastic outdoor furniture range, the Peak Street range is made in Australia from 100% recycled plastic and timber composite and retains a timber-like appearance. It is highly popular with parks, schools and communities looking for an ecofriendly outdoor furniture alternative. It is resistant to termites, weatherproof, durable and long-lasting. View the full recycled Peak Street Range.
If you would like to know more about our premium aluminium outdoor furniture or recycled Peak Street range, don't hesitate to get in touch with our friendly team today on 1800 834 016.