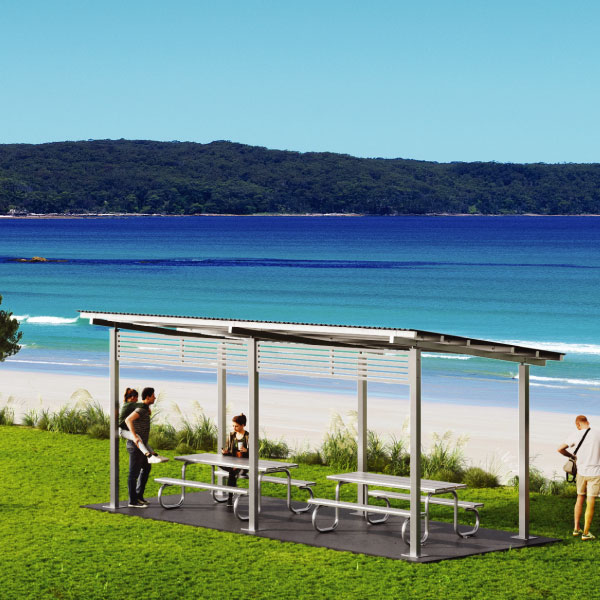 Shelters for Every Occasion
Make your outdoor areas usable all year around with our stylish new Aluminium skillion shelters. Add a 3m or 6m Aluminium Skillion Shelter over existing outdoor furniture or choose new outdoor tables and chairs or seating to match your stunning new shelter-to-be. A standout design for parks, beachside, community venues, school ovals and playgrounds.
Have a collection point at a school or waiting area at a bus bay? Take a look at our new Stop, Drop and Go Zone Shelter. An ideal shade shelter for assembly points and collection zones .
We are Australia's leading outdoor furniture specialists. Our premium quality aluminium outdoor shelters are 100% Australian made and built for Australian conditions.
Need help selecting your skillion shelter?
Call the team on 1800 834 016
Choose your Skillion Shelter!
Need Outdoor Tables and Chairs to complement your new shelter? View our range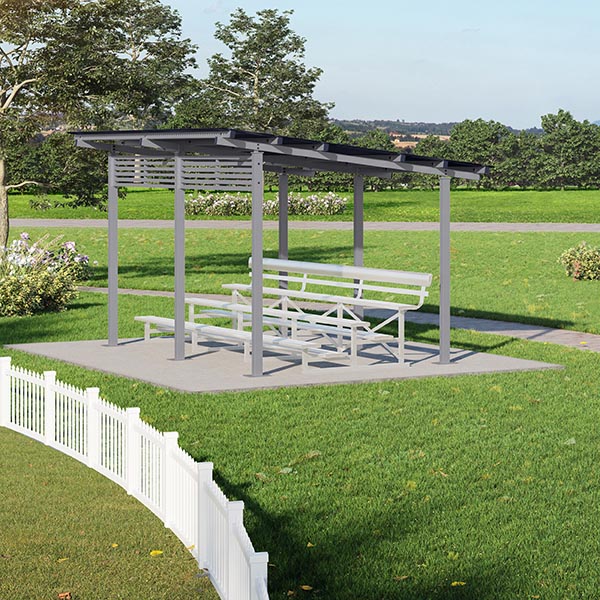 Why choose a Felton Outdoor Shelter?
Choose a Park Shelter or School Shelter ideal for your outdoor areas
Outdoor shelters provide a simple solution to enjoying the Australian outdoors, all year round. Our new selection of outdoor shelters offer a versatile and stylish way to add shelters into an existing outdoor area and can be combined with new or existing tables and chairs or other seating. Our range of outdoor shelters have been designed to provide outstanding weather protection against Australia's harsh climate and are engineered for Region C Terrain Category 2.5.
Why choose Felton Outdoor Shelters
All our shelters are certified 100% Australian Made and Owned.
Versatility - our selection of outdoor shelters are extremely versatile. Their standalone nature means they can be used on their own or in conjunction with new or existing outdoor furniture.
Our outdoor shelters encourage people to get outside all year around, optimising the use of your outdoor environment.
Government research tells us that children who spend more time outside learn better and have stronger physical and mental health. The constant flow of air helps students remain alert and focused. They're also more likely to be environmentally aware, with an enhanced sense of creativity, better teamwork and problem-solving skills. Our shelters can be used to help make outdoor learning a possibility whatever the season.
Undercover areas assist in reducing exposure to harmful UV rays and providing shelter from rain.
Materials

Full Aluminium frame construction
7.6 Degree Skillion Roof Design
Aluminium strip Louvre Screen included as standard
Bolt Down Footing Design
Colorbond® Iron Roofing Material – Deep Ocean Standard with Alternative Colour Options
Need assistance for your Outdoor Shelter? Why not see what grants are available for shade structures in your community
Take a look through our grants page for up-to-date information on the grants available nationwide and state-wide. Some popular grants for shade include:
The Australian Department of Education, Skills and Employment provides a variety of financial assistance programs to schools, including the provision of shade structures. Schools can apply for funding for one project between $1,000 and $20,000 by submitting an application on SCHOOLSHUB. The application must include details such as who will benefit from the project, the expected benefits and how the project provides value for public money.
The Cancer Council recommends shade in all outdoor areas where people gather and spend time during the day. To facilitate this, the Cancer Council Queensland in conjunction with the Queensland Department of Health launched the SunSmart Shade Creation Initiative to cover 80% of the cost of a school shade program.
Looking for something a little bit different?
Request a Quote or More Information
Would you like more information or a quote on our new outdoor shelters? Simply complete the form below