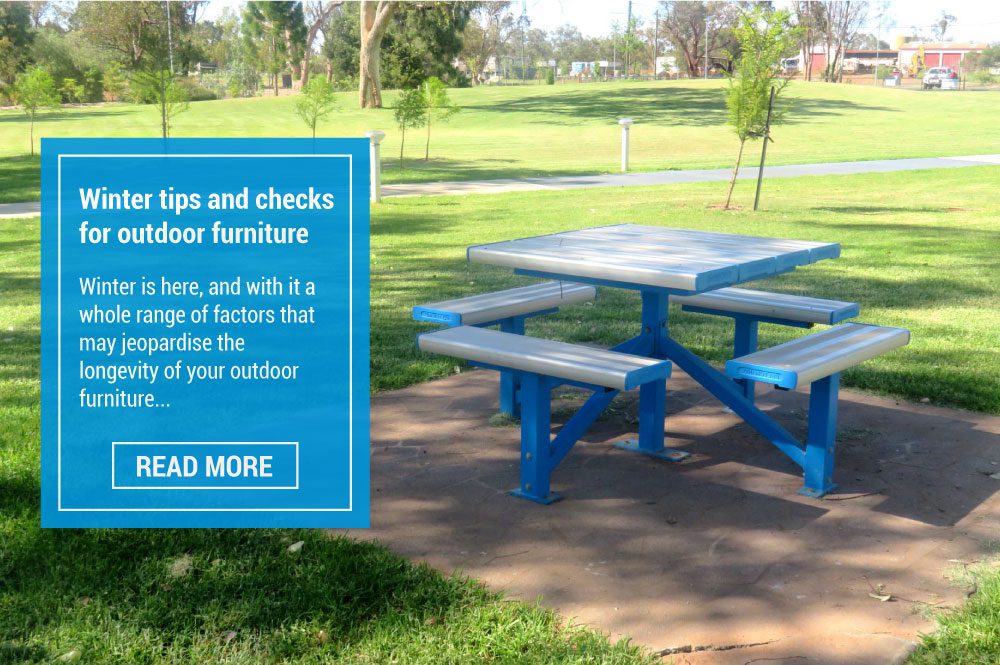 Winter is here, and with it a whole range of factors that may jeopardise the longevity of your outdoor furniture. For lower levels of maintenance choosing premium quality, durable, Australian made outdoor furniture that is weather resistant will reduce the level of upkeep required. With the seasonal change you can expect to see an increase in rain, rot and mildew, making it more important than ever to ensure your outdoor furniture is maintained. Providing the best care for your outdoor furniture is dependent on the materials that is built with. Understanding the different standards of care required for different materials, will help you ensure your outdoor furniture is kept at its best for the longest time period possible.
Wooden Outdoor Furniture
When choosing outdoor furniture an important factor to consider is that wooden furniture is the most susceptible to changing weather elements. This means that it requires a higher level of care, and often a sealant/ treatment to avoid rot. It is especially important to be mindful of rot, as this leads to a structural failure in furniture. When choosing outdoor furniture there is a choice between hardwoods and softwoods as a material choice. A factor to consider is that hardwoods such as Blackbutt and Australian Spotted Gum reduce maintenance as they are abundant in oils, materials and nutrients making them less susceptible to damaging factors such as mould, mildew and UV. UV and light exposure is a factor to consider with the positioning of wooden outdoor furniture as high levels of UV/light exposure will cause the wood to fade or split.
With wooden furniture the presence of mould and mildew is a factor of concern as it can cause damage to the furniture. As soon as mould or mildew is discovered it needs to be removed with furniture using a mild soap solution. For the start and finish of each season, any stains should be removed. For tougher stains a mix of water and dishwasher detergent combined with a scrubbing tool and soft brush is a good solution. If this is ineffective or for extremely challenging stains a light sanding of the surface is recommended, followed by a rinse.
Aluminium Outdoor Furniture
For outdoor spaces where minimal maintenance is preferred such as parks and in school grounds. aluminium is an ideal outdoor furniture solution. Aluminium is a metal furniture, with unique properties as it is strong, durable yet lightweight. It requires minimal maintenance as it isn't susceptible to mould or mildew. If your aluminium furniture needs brightening the best way to achieve this is with mild soap, water, and a sponge. It also does not rust, meaning for outdoor spaces in damp locations, aluminium is a good option. For organisations looking for an environmentally sustainable yet long-lasting material option aluminium also provides a unique solution, as it is recyclable.
Plus did you know aluminium is also UV resistant. For outdoor furniture locations with continual exposure to sunlight this is the ideal material, as it is engineered to withstand the harsh Australian sun.
How We Can Help
Here at Felton Industries, we design and manufacture premium quality and comfortable outdoor furniture suitable for use within parks, communities, schools and more. We offer a range of different seating options that can be tailored to suit specific requirements. Get in touch with our friendly team in 1800 834 016 to learn more on how to transform your outdoor space today.