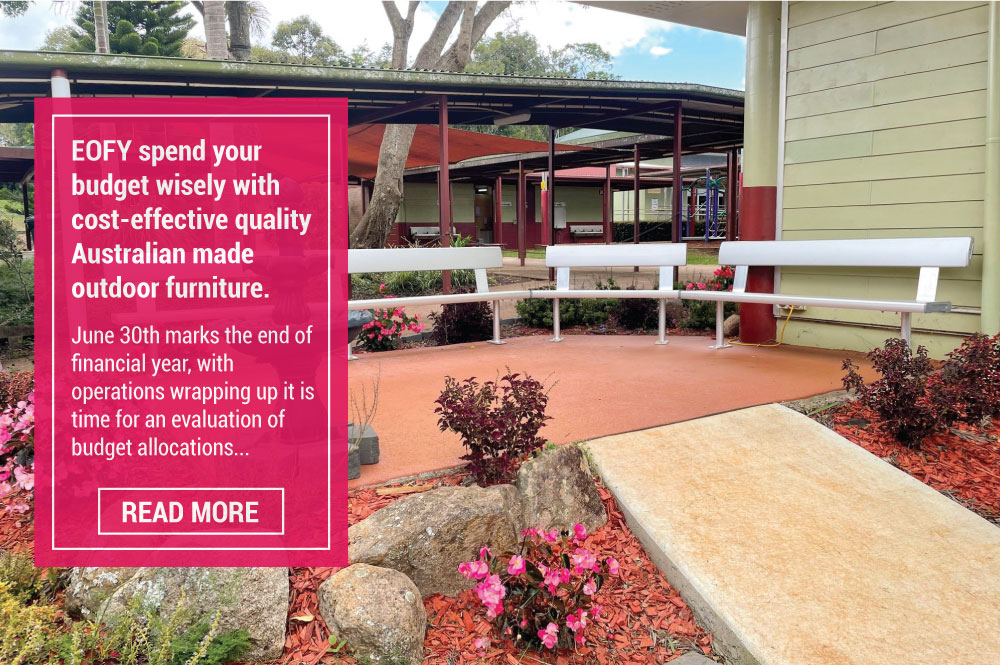 June 30th marks the end of financial year, with operations wrapping up, it is time for an evaluation of budget allocations. EOFY budgets are reviewed and outlined for the following year with decisions being made based on current and future expenditures. With the end of financial year approaching, it is now time to consider where its best to spend remaining budgets. Purchasing considerations include turnaround times, product quality, reliability and practicality. Felton's range of outdoor furniture provides quality, outdoor furniture, engineered for solutions across industries.
The Felton Advantage
Felton's outdoor furniture is proudly Australian made, manufactured from high-quality materials that are structurally rated. For our aluminium range, each piece of aluminium furniture contains up to 20% more aluminium than competitive products. This makes Felton's furniture stronger, safer and more durable.
With a 7-year warranty on each piece of outdoor furniture, you can be assured that the furniture purchased is built to last. Each product is manufactured within Australia to stringent Australian standards, following the ISO9001 management standard, assuring that quality management checks are in place. The results of using premium materials, and strict manufacturing standards are premium quality products that are built to last. Reliable, durable products that are fit for purpose and provide value for money.
All Felton products are built to withstand the harsh Australian environment. Furniture is engineered to suit your outdoor furniture needs and provide a valued investment.
Our Product Range
Felton offers a wide range of outdoor furniture designed for use across schools, councils, parks, street furniture, sportsgrounds, childcare centres, accommodation and more.
Outdoor furniture ranges from tables and chairs, grandstands, shelters, bench seating, bins, bike and bag racks, gym and change rooms, wheelchair settings and stages.
Table and chairs: Felton's range of outdoor aluminium tables and chairs promote social interactions regardless of size, with easy -to clean, modern aluminium settings.
Grandstands: Our range of spectator seating is used across showgrounds, stadiums, and sportsgrounds with robust and easy-to-install Australian seating options.
Bench seating: Felton's outdoor bench seating offers flexible alternatives with high quality, robust seating, available in aluminium, spotted gum and recycled peak materials.
Across all of our outdoor furniture range we have extensive experience in tailoring solutions to fit space size and budget constraints.

Savings with EOFY
The EOFY sale offers great savings across a range of our top-selling products. With sales on park settings, select grandstands wheelie bins surrounds and more, you can find the perfect outdoor furniture for your outdoor space, ready for the new financial year. If you need further information about a product, customisation, or advice for purchasing in bulk don't hesitate to get in touch with our friendly team on 1800 83 40 16.